Aug 11, 2009 General
Posted by Dusty
My mom and sister usually go to the Highway 127 Yard Sale every summer. I've only gone along with them once. I just don't have the desire to look through other peoples' junk in 90+ degree weather. But, being that I recently took up the hobby of record collecting, I decided to go with them Saturday to see what I could find.
While looking at a table full of old fishing lures in Dunlap, I heard the unmistakeable siren of Ecto-1 in the distance. I assumed someone nearby must have had some Ghostbusters toys for sale, so I looked around to see where the sound was coming from. The siren kept getting closer. Then I saw this station wagon rolling down the road.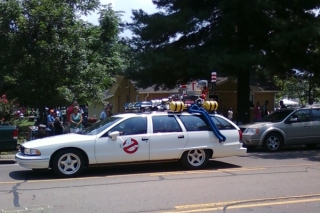 We saw it again a few hours later around Pikeville. This time it was blasting the theme song.