Oct 31, 2006 Entertainment, Projects, Tech/Gadgets
Posted by Dusty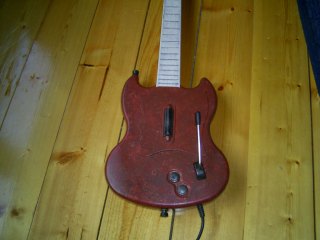 Last night I finished painting my second GH controller. It didn't turn out the way I had it pictured in my head, but nothing ever does. I was going for a faux rust finish body with worn wooden neck. Parts of it turned out great and other parts look like crap. At least it's better than plain black and white.
I'm probably going to end up with quite a collection of guitars. Red Octane is producing a wireless version that I'm sure I'll get eventually, and then there's the 360 controller that I plan on modding.